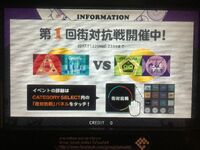 街対抗戦 is a series of events in jubeat clan. When 街対抗戦 is held, two teams of player will compete in pow (power of wow) gathering. Each player can get REWARDS from collecting pow, participating in an event and being a member of winning team. When event ends, monument will be built to celebrate the winning team.
pow & HOT MUSIC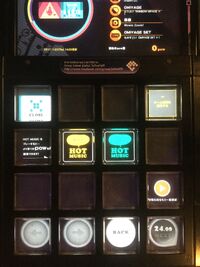 When player with e-AMUSEMENT PASS plays jubeat clan during event, pow (power of wow) is obtained. Collecting enough pow will earn player a REWARD.
Player gets 10 pow from playing each TUNE regardless of RESULT of that TUNE. But for the TUNE that player plays HOT MUSIC, 30 pow is obtained. There are 2 themes of HOT MUSIC available in each event. Each theme has 25 songs which can be played unconditionally although they haven't been unlocked yet.
Please be aware that pow collecting is not possible in the first credit of jubeat clan. But HOT MUSIC can be chosen for playing.
When event ends, pow from all players in each team is accumulated. Team that has more pow will be the winner of the competition.
Types of REWARDS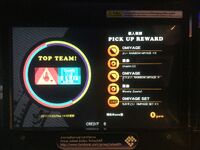 REWARDS from this event can be obtained in 3 ways as described below:
個人特典 (individual REWARDS) is item that player will get when player's collected pow reaches a certain value. It's independent on the result of competition,
参加特典 (participation REWARDS) is item(s) for player that participates the event,
勝利特典 (victory REWARDS) is item(s) for player that belongs to the winning team of competition. Player must participate the event in order to get the victory REWARDS.
Note that participation and victory REWARDS will be given to player at the beginning of first credit in the next day after event ends.
List of events
This section lists HOT MUSIC and REWARDS in each event in a series.
第1回
General information:
Event period: From November 2nd, 2017 to November 22nd, 2017
Teams: 「

Redbelk

&

Cyanttle

」VS「

Greenesia

&

Plumpark

」
Themes of HOT MUSIC: キュート (cute) / クール (cool)
RESULT: Redbelk & Cyanttle (11,714,800 pow) / Greenesia & Plumpark (11,382,780 pow)
MORE HOT MUSIC: キュート (cute) - 56.8% / クール (cool) - 43.2%
MONUMENT: とびはねるりんごうさぎ
HOT MUSIC for 第1回街対抗戦
Genre
Title
Artists
LEVEL
Conduction
target?
BSC
ADV
EXT
テーマ「キュート」
Pops
つけまつける
きゃりーぱみゅぱみゅ
2
5
7
-
バリ3共和国
でんぱ組.inc
4
7
9
-
MATATABISTEP
パスピエ
2
5
8
-
Anime
うまるん体操
妹S
3
6
8
-
GO! GO! MANIAC
放課後ティータイム
4
8
9
-
ブルー・フィールド
Trident (渕上 舞・沼倉愛美・山村 響)
2
5
7
-
Social
エイリアンエイリアン
ナユタン星人
3
6
9
-
ハッピーシンセサイザ
EasyPop
4
7
9
-
TOHO
お嫁にしなさいっ!
ARM+夕野ヨシミ (IOSYS)
3
7
9
-
ホメ猫☆センセーション
P*Light feat. mow*2
4
7
9
Original
anemone
S-C-U feat. Qrispy Joybox
5
7
10
-
ULTRA HAPPY MEGAMIX
DJ Genki
3
7
9
8 -eight-
Tom-H@ck feat.Nadia
4
6
9
ALL MY HEART -この恋に、わたしの全てを賭ける-
SUPER HEROINE 彩香-AYAKA-
4
7
8
-
カラフルミニッツ
Qrispy Joybox feat.mao
3
5
8
恋のメリーゴーランド
森野くま子
5
6
7
SigSig
kors k
5
7
9
-
TWINKLING
猫叉Master feat.ミミニャミ
3
5
8
†渚の小悪魔ラヴリィ~レイディオ†
夏色ビキニのPrim
5
8
10
-
にゃんのパレードマーチ♪
DJ TOTTO feat.にゃん
3
6
8
ぱんだしんけん1、2、3 ~ちえ!おっしょさんにはかなわないや!~ 
おひさまくらぶ
2
5
8
Flip Flap
kors k
3
7
8
ポチコの幸せな日常
NU-KO
4
7
9
まるでマトリョーシカ
seiya-murai feat. ALT
3
6
8
Little Star
REDALiCE feat. Ayumi Nomiya
4
6
8
テーマ「クール」
Pops
天国と地獄
UNISON SQUARE GARDEN
4
7
10
-
HERO
ソナーポケット
3
6
8
-
Love at First Sight
Fear, and Loathing in Las Vegas
3
7
9
-
Anime
Share The World
東方神起
3
6
7
-
Shadow and Truth
ONE Ⅲ NOTES
3
7
9
-
マジLOVE1000%
ST☆RISH
2
7
8
-
Social
STATIC
164 feat.GUMI
3
8
9
-
ドーナツホール
ハチ
4
5
8
-
TOHO
Silent Story
発熱巫女~ず
2
6
7
-
Runway Drive
舞花
3
6
8
-
Original
Icicles
Jimmy Weckl
4
6
8
eyes
小野秀幸
3
7
8
In The Breeze
96 & Sota ft. Mayumi Morinaga
3
7
9
Chronos
TAG
4
8
9
-
Saturday Night Love
Sota feat. Brenda V.
2
5
7
Jailbreak
Kozo Nakamura
5
6
9
sola
小野秀幸
3
7
9
-
Daisuke
Y&Co.
3
6
9
Dragon Blade
Kozo Nakamura
5
8
10
New Gravity
Starving Trancer
3
7
8
フー・フローツ
Nanako
3
5
9
Proof of the existence
猫叉Master+
4
7
10
milky ice bear
S-C-U
4
6
8
unisonote
onoken
2
6
9
LUV CAN SAVE U
HIDEKI NAGANUMA
4
8
9
REWARDS in 第1回街対抗戦
cum.
pow
REWARDS
cum.
pow
REWARDS
個人特典 (individual rewards)
50
 よい OMIYAGE SET × 3
100
 よい RAINBOW MIYAGE × 5
150
 BONUS TUNE GAUGE: 150 ten
200
 OMIYAGE SET × 15
250
 jbox piece: 100 pieces
300
chaplet [ 2 ] (LEVEL:

4

/

8

/ 10) 
350
 BONUS TUNE GAUGE: 200 ten
400
 OMIYAGE SET × 15
450
 jbox piece: 100 pieces
500
 よりよい RAINBOW MIYAGE × 1
600
 よりよい RED MIYAGE × 2
700
 よりよい CYAN MIYAGE × 2
800
 よりよい GREEN MIYAGE × 2
900
 よりよい PLUM MIYAGE × 2
1000
Wowie Zowie! (LEVEL:

5

/

9

/ 10)
1100
 BONUS TUNE GAUGE: 200 ten
1200
 よい OMIYAGE SET × 5
1300
 jbox piece: 100 pieces
1400
 よい OMIYAGE SET × 5
1500
 ものすごい OMIYAGE SET × 1
1800
 よい RED MIYAGE × 3
2100
 よい CYAN MIYAGE × 3
2400
 よい GREEN MIYAGE × 3
2700
 よい PLUM MIYAGE × 3
3000
 よい OMIYAGE SET × 1
3300
 よい RAINBOW MIYAGE × 1
3600
 よい RED MIYAGE × 3
3900
 よい CYAN MIYAGE × 3
4200
 よい GREEN MIYAGE × 3
4500
 よい PLUM MIYAGE × 3
4800
 よい OMIYAGE SET × 1
5100
 よい RAINBOW MIYAGE × 1
...
参加特典 (participation rewards)
勝利特典 (victory rewards)
-
 よりよい OMIYAGE SET × 1
-
 よりよい OMIYAGE SET × 1
-
 よい OMIYAGE SET × 10
-
 よい OMIYAGE SET × 10
-
 OMIYAGE SET × 20
-
 OMIYAGE SET × 20
第2回
General information:
Event period: From January 9th, 2018 to January 29th, 2018
Teams: 「

Redbelk

&

Greenesia

」VS「

Cyanttle

&

Plumpark

」
Themes of HOT MUSIC: ネイチャー (nature) / マシーン (machine)
RESULT: Redbelk & Greenesia (11,360,880 pow) / Cyanttle & Plumpark (11,347,640 pow)
MORE HOT MUSIC: ネイチャー (nature) - 48.4% / マシーン (machine) - 51.6%
MONUMENT: エレファントロニクス
HOT MUSIC for 第2回街対抗戦
Genre
Title
Artists
LEVEL
Conduction
target?
BSC
ADV
EXT
テーマ「ネイチャー」
Pops
Amazing Parade
Czecho No Republic
3
7
9
-
こんがらガール
Charisma.com
2
5
8
-
ワタリドリ
[Alexandros]
3
6
8
-
Anime
オリオンをなぞる
UNISON SQUARE GARDEN
3
7
9
-
君の知らない物語
-
2
6
8
-
となりのトトロ feat.sayurina
新井大樹
2
6
8
-
Social
きょうもハレバレ
ふわりP Feat. GUMI's
3
6
8
-
シャルル
バルーン
2
5
8
-
TOHO
取り残された美術(Arranged:HiZuMi)
幽閉サテライト feat. senya
3
6
9
-
向日葵サンセット
ARM・まろん (IOSYS) × ランコ・パプリカ (豚乙女)
3
6
9
-
Original
アキネイション
ビートまりお(COOL&CREATE)
4
9
10
We're so Happy
Ryu☆
5
8
10
歌の翼
あーたん
3
7
9
Green Green Dance
Mutsuhiko Izumi
3
7
8
けもののおうじゃ★めうめう
日向美ビタースイーツ♪
3
6
8
-
防人恋歌
Ax feat.夏川陽子
3
5
7
Special One
kors k feat. Suzuyo Miyamoto
4
5
6
-
夏色DIARY 俺のjubeat編
猫叉王子 feat.時を駆けるショッチョー
4
7
10
Nature (jubeat version)
Mutsuhiko Izumi
5
9
10
Happy Happy
ki☆ki
2
5
8
華爛漫 -Flowers-
TЁЯRA
2
7
8
FUNKY SUMMER BEACH
P*Light
4
7
10
-
Blue Goose
Mutsuhiko Izumi
4
8
10
見習い天使と星降りの丘
DJ TOTTO
3
8
9
Lost wing at.0
猫叉Master+
4
8
9
テーマ「マシーン」
Original
Kick It Out
ブンブンサテライツ
3
7
9
-
人生は素晴らしい物語。(Dear Japan Remix)
ハジ→
2
5
8
-
HOT LIMIT
-
5
6
8
-
Anime
SAVIOR OF SONG(feat. MY FIRST STORY)
ナノ
4
7
9
-
回レ!雪月花
歌組雪月花
4
7
9
-
猛烈宇宙交響曲・第七楽章「無限の愛」
ももいろクローバーZ
4
7
8
-
Social
僕ガ壊レル前ニ
ゲーム実況もっと!わくわく荘
3
6
8
-
炉心融解
iroha
2
5
8
-
Game
GRADIUS Ⅱ ~ ビーストメドレー ~
Sota Fujimori
2
6
9
Twinbee's Home Town Song
Sota Fujimori
2
6
9
Original
I/O
Ryu☆
4
7
8
UROBOROS OVERDIVE 
L.E.D. feat. YURiCa/花たん
3
7
9
AREA 51
96
6
7
9
-
coming true
GUHROOVY Vs. L.E.D.
5
7
9
SPACE VILLAGE
サイバー劇レコ
3
7
9
TYCOON
SOUND HOLIC feat. Nana Takahashi
3
6
9
TSAR BOMBA
L.E.D.
4
8
10
トキメキストリーム
Qrispy Joybox
4
7
9
nostos
Setaria Virtuoso
4
6
9
-
passionate fate
Ryu☆
3
7
9
羽根亡キ少女唄
純情ディスコード
3
6
9
-
Mother Ship
Sota Fujimori
4
8
9
-
Megalara Garuda 
SYUNN
10
10
10
Rock The Club
Expander
4
8
9
WONDER WALKER
L.E.D.
6
8
9
REWARDS in 第2回街対抗戦
cum.
pow
REWARDS
cum.
pow
REWARDS
個人特典 (individual rewards)
50
 OMIYAGE SET × 10
100
 jbox piece: 100 pieces
150
 BONUS TUNE GAUGE: 200 ten
200
 jbox piece: 100 pieces
250
 OMIYAGE SET × 10
300
カラルの月 [ 2 ] (LEVEL:

4

/

7

/

9

) 
350
 よい RAINBOW MIYAGE × 3
400
 jbox piece: 100 pieces
450
 BONUS TUNE GAUGE: 200 ten
500
 OMIYAGE SET × 10
600
 もえてきた…!
700
 よい RAINBOW MIYAGE × 3
800
 jbox piece: 100 pieces
900
 BONUS TUNE GAUGE: 200 ten
1000
HEAVENLY MOON [ 2 ] (LEVEL:

5

/

8

/ 10) 
1100
 よい RED MIYAGE × 5
1200
 よい CYAN MIYAGE × 5
1300
 よい GREEN MIYAGE × 5
1400
 よい PLUM MIYAGE × 5
1500
 ものすごい OMIYAGE SET × 1
1600
 よりよい RED MIYAGE × 2
1700
 よりよい CYAN MIYAGE × 2
1800
 よりよい GREEN MIYAGE × 2
1900
 よりよい PLUM MIYAGE × 2
2000
Necroxis Girl (LEVEL:

4

/

8

/ 10) 
2300
 よい RED MIYAGE × 3
2600
 よい CYAN MIYAGE × 3
2900
 よい GREEN MIYAGE × 3
3200
 よい PLUM MIYAGE × 3
3500
 よい OMIYAGE SET × 1
3800
 よい RAINBOW MIYAGE × 1
4100
 よい RED MIYAGE × 3
4400
 よい CYAN MIYAGE × 3
4700
 よい GREEN MIYAGE × 3
5000
 よい PLUM MIYAGE × 3
5300
 よい OMIYAGE SET × 1
5600
 よい RAINBOW MIYAGE × 1
5900
 よい RED MIYAGE × 3
...
参加特典 (participation rewards)
勝利特典 (victory rewards)
-
 よりよい OMIYAGE SET × 1
-
 よりよい OMIYAGE SET × 1
-
 よい OMIYAGE SET × 10
-
 よい OMIYAGE SET × 10
-
 OMIYAGE SET × 20
-
 OMIYAGE SET × 20
第3回
General information:
Event period: From April 19th, 2018 to May 9th, 2018
Teams: 「

Redbelk

&

Plumpark

」VS「

Cyanttle

&

Greenesia

」
Themes of HOT MUSIC: ダーク (dark) / ピュア (pure)
RESULT: Redbelk & Plumpark (12,969,060 pow) / Cyanttle & Greenesia (12,749,980 pow)
MORE HOT MUSIC: ダーク (dark) - 54.4% / ピュア (pure) - 45.6%
MONUMENT: ダークチョコベリーベアー
HOT MUSIC for 第3回街対抗戦
Genre
Title
Artists
LEVEL
Conduction
target?
BSC
ADV
EXT
テーマ「ダーク」
Pops
a fact of life
FACT
3
6
7
-
ANTI-HERO
SEKAI NO OWARI
3
6
8
-
メギツネ
BABYMETAL
3
6
9
-
Anime
鬼帝の剣
ALI PROJECT
4
6
8
-
Clattanoia
OxT
4
7
9
-
Buddy
坂本真綾
3
6
9
-
Social
過食性:アイドル症候群
スズム feat.GUMI & MAYU
5
9
10
-
フィクサー
ぬゆり
3
7
9
-
Game
Garakuta Doll Play
t+pazolite 「maimai」より
5
9
10
-
月風魔伝 ~ ビーストメドレー ~ 
Akhuta
4
7
9
Original
アガット [ 2 ]
Bazole
5
9
10
-
UROBOROS OVERDIVE 
L.E.D. feat. YURiCa/花たん
3
7
9
GIGA BREAK
96
6
7
9
この子の七つのお祝いに
あさき
5
8
9
Jailbreak
Kozo Nakamura
5
6
9
漆黒のスペシャルプリンセスサンデー
日向美ビタースイーツ♪
3
6
9
-
JOMANDA
DJ YOSHITAKA
7
9
10
SWEET HOME PARTY
劇団レコード
4
7
9
STULTI
MAX MAXIMIZER VS DJ TOTTO
3
8
9
-
ZED
USAO
4
8
9
-
NIGHT FLIGHT
小野秀幸
4
7
9
Niflheimr
Qrispy Joybox
4
8
10
Never Look Back in Sorrow
AIKO OI
5
8
10
Knell
Project B-
4
7
9
HYDRA
96
3
8
9
テーマ「ピュア」
Pops
あなたに恋をしてみました
chay
1
5
7
-
にんじゃりばんばん [ 2 ] 
きゃりーぱみゅぱみゅ
3
6
8
-
Baroque Hoedown
-
3
8
9
-
Anime
sweet sweet everytime sweet
海老名菜々(CV:影山灯)
3
5
7
-
Baby Sweet Berry Love
小倉 唯
3
5
9
-
リトライ☆ランデヴー
にゃ~たん(CV:村川梨衣)
4
6
8
-
Social
きょうもハレバレ
ふわりP Feat. GUMI's
3
6
8
-
バンブーソード・ガール
cosMo@暴走P
5
9
10
-
TOHO
お嫁にしなさいっ!
ARM+夕野ヨシミ (IOSYS)
3
7
9
-
魔理沙は大変なものを盗んでいきました
ARM+夕野ヨシミ (IOSYS) feat. 藤咲かりん
3
6
9
-
Original
I love マミー
荒牧陽子
4
5
8
恋はどう?モロ◎波動OK☆方程式!!
あべにゅぅぷろじぇくと
3
8
9
Sulk 
SYUNN
4
7
9
-
citrus 
kamome sano
4
7
9
Scars of FAUNA [ 2 ] 
猫叉Master
3
6
10
-
スペースカーニバル
shooting star
4
6
8
smooooch・∀・
kors k
3
8
10
とびっきりのふわっふわ
日向美ビタースイーツ♪
3
5
6
neko*neko
日向美ビタースイーツ♪
3
6
7
-
Bleep Beep Bop
kors k
3
7
9
Phlox
Sota Fujimori 2nd Season
4
8
10
ポチコの幸せな日常
NU-KO
4
7
9
ラキラキ
Mutsuhiko Izumi & S-C-U
3
8
10
-
Love km [ 2 ] 
dj TAKA feat. REN
4
7
9
分けるな危険!モモモモモモーイズム 
ARM×狐夢想 feat. 桃井はるこ
4
8
10
REWARDS in 第3回街対抗戦
cum.
pow
REWARDS
cum.
pow
REWARDS
個人特典 (individual rewards)
50
 OMIYAGE SET × 15
100
 jbox piece: 100 pieces
150
 BONUS TUNE GAUGE: 200 ten
250
 OMIYAGE SET × 15
300
 BONUS TUNE GAUGE: 200 ten
350
 よい RAINBOW MIYAGE × 5
400
 jbox piece: 100 pieces
450
 BONUS TUNE GAUGE: 200 ten
500
 OMIYAGE SET × 15
600
 jbox piece: 100 pieces
700
 よい RAINBOW MIYAGE × 3
800
 jbox piece: 100 pieces
900
 BONUS TUNE GAUGE: 200 ten
1000
No One Can Reach The Truth
(LEVEL:

3

/

6

/

8

) 
1100
 よい RED MIYAGE × 5
1200
 よい CYAN MIYAGE × 5
1300
 よい GREEN MIYAGE × 5
1400
 よい PLUM MIYAGE × 5
1500
 ものすごい OMIYAGE SET × 1
1600
 よりよい RED MIYAGE × 2
1700
 よりよい CYAN MIYAGE × 2
1800
 よりよい GREEN MIYAGE × 2
1900
 よりよい PLUM MIYAGE × 2
2000
 ものすごい RAINBOW MIYAGE × 1
2300
 よい RED MIYAGE × 3
2600
 よい CYAN MIYAGE × 3
2900
 よい GREEN MIYAGE × 3
3200
 よい PLUM MIYAGE × 3
3500
 よい OMIYAGE SET × 1
3800
 よい RAINBOW MIYAGE × 1
4100
 よい RED MIYAGE × 3
4400
 よい CYAN MIYAGE × 3
...
参加特典 (participation rewards)
勝利特典 (victory rewards)
-
 よりよい OMIYAGE SET × 1
-
 よりよい RAINBOW MIYAGE × 1
-
 よい OMIYAGE SET × 10
-
 よい OMIYAGE SET × 10
-
 OMIYAGE SET × 20
-
 OMIYAGE SET × 20
第4回
General information:
Event period: From June 7th, 2018 to July 11th, 2018
Teams:「

Redbelk

」VS「

Cyanttle

」VS「

Greenesia

」VS「

Plumpark

」
Themes of HOT MUSIC: ボーイ (boy) / ガール (girl)
RESULT: Redbelk (8,978,020 pow) / Cyantle (8,681,750 pow) / Greenesia (8,621,870 pow) / Plumpark (8,532,610 pow)
MORE HOT MUSIC: ボーイ (boy) - 44.6% / ガール (girl) - 55.4%
MONUMENT: 祝福のユビ子
HOT MUSIC for 第4回街対抗戦
Genre
Title
Artists
LEVEL
Conduction
target?
BSC
ADV
EXT
テーマ「ボーイ」
Pops
CARTOON HEROES
-
2
6
7
-
ピースサイン
米津玄師
4
6
8
-
MURASAKI
蒼井翔太
2
5
8
-
Anime
Glorious days
GRANRODEO
2
5
9
-
Shadow and Truth
ONE Ⅲ NOTES
3
7
9
-
マジLOVE2000%
ST☆RISH
3
6
8
-
Social
男と女の言い合いのうた
猫大樹
2
5
8
-
僕は空気が嫁ない
cosMo@暴走P
4
8
9
-
Game
Vampire Killer
浅田 靖
3
7
9
Show up ! - short ver -
3 Majesty
2
5
7
-
Original
800nm
Another Infinity (Ryu☆×Starving Trancer)
5
8
9
枝に結ぶ願い [ 2 ] 
Akhuta
4
7
9
Elemental Creation
dj TAKA meets DJ YOSHITAKA
5
9
10
-
overcomplexification
かめりあ
4
8
10
Go For The Top
U1 overground
4
8
9
Concertino in Blue
佐々木博史
4
8
9
Just Believe
小寺可南子
3
7
9
少年は空を辿る
Power Of Nature
7
9
10
拙者はSAMURAI FOOD
S-C-U a.k.a. Food Samurai × A応P
3
7
8
-
Chance and Dice
日本少年
5
6
7
デッドボヲルdeホームラン
猫叉Masterβ2
4
6
9
夏・KOI・ムッシュ!!
ビーチサンダルズ
4
6
9
-
High School Love
DJ YOSHITAKA feat.DWP
2
6
8
Fly with me
TAG
4
7
9
Romancing Layer
TAG
3
9
10
テーマ「ガール」
Pops
Girl A
[Alexandros]
3
6
8
-
こんがらガール
Charisma.com
2
5
8
-
Follow Me
E-girls
3
5
6
-
Anime
sister's noise
fripSide
3
7
8
-
ViViD
May'n
3
6
9
-
フレ降レミライ
北高文芸部女子会
3
5
8
-
TOHO
妖隠し -あやかしかくし-
DJ TOTTO feat.3L
3
5
9
From⑨Girl
uno (IOSYS) × 越田Rute隆人&あき (A-One)
2
5
8
-
Game
Strawberry ChuChu
ときめきアイドル project クッキーパラダイス
4
6
8
-
天上の果て
マジックアカデミー管弦楽部×劇団レコード
4
7
8
-
Game
Vanity
Vivian
4
7
9
梅雪夜
Qrispy Joybox feat.mao
3
6
9
CARNIVOROUS
SOUND HOLIC feat. Nana Takahashi
2
6
8
怪盗BisCoの予告状!! 
Qrispy Joybox
2
7
9
それは花火のような恋
夏色バーニングラブ☆Prim
3
7
9
time granular
ZUKI
4
7
9
都会征服Girls☆
日向美ビタースイーツ♪
2
5
8
-
Necroxis Girl 
BEMANI Sound Team "HuΣeR"
4
8
10
-
爆なな☆てすとロイヤー 
ARM feat.ななひら
5
9
10
パ→ピ→プ→Yeah!
ヒゲドライバー join. shully & Nimo
6
8
10
Be a Hero!
中島由貴
4
9
10
-
秘密がーる♡乙女
MaMiKa(松下×mitsu×T.kakuta)
3
6
8
不可説不可説転 
OSTER project
5
8
9
フレッフレー♪熱血チアガール
裏マドンナだ!Primちゃん
4
7
10
レゾンデートル、前線より 
中島由貴
3
7
9
-
REWARDS in 第4回街対抗戦
cum.
pow
REWARDS
cum.
pow
REWARDS
個人特典 (individual rewards)
50
 OMIYAGE SET × 15
100
 jbox piece: 100 pieces
150
 BONUS TUNE GAUGE: 200 ten
200
 jbox piece: 100 pieces
250
 よい RAINBOW MIYAGE × 15
300
 BONUS TUNE GAUGE: 200 ten
350
 RAINBOW MIYAGE × 5
400
 jbox piece: 100 pieces
450
 BONUS TUNE GAUGE: 200 ten
500
Singularity (LEVEL:

4

/

8

/ 10) 
600
 jbox piece: 100 pieces
700
 よりよい RAINBOW MIYAGE × 3
800
 jbox piece: 100 pieces
900
 BONUS TUNE GAUGE: 200 ten
1000
Rampage☆Rag (LEVEL:

6

/

8

/ 10)
1200
 よい RED MIYAGE × 5
1400
 よい CYAN MIYAGE × 5
1600
 よい GREEN MIYAGE × 5
1800
 よい PLUM MIYAGE × 5
2000
Everybody's Rich (LEVEL:

5

/

8

/ 10) 
2200
 よりよい RED MIYAGE × 2
2400
 よりよい CYAN MIYAGE × 2
2600
 よりよい GREEN MIYAGE × 2
2800
 よりよい PLUM MIYAGE × 2
3000
One More Reason (LEVEL:

5

/

8

/ 10)
3300
 よい RED MIYAGE × 3
3600
 よい CYAN MIYAGE × 3
3900
 よい GREEN MIYAGE × 3
4200
 よい PLUM MIYAGE × 3
4500
 よい OMIYAGE SET × 1
4800
 よい RAINBOW MIYAGE × 1
5100
 よい RED MIYAGE × 3
...
参加特典 (participation rewards)
勝利特典 (victory rewards)
-
 よりよい OMIYAGE SET × 1
-
 よりよい RAINBOW MIYAGE × 1
-
 よい OMIYAGE SET × 10
-
 よい OMIYAGE SET × 10
-
 OMIYAGE SET × 20
-
 OMIYAGE SET × 20